Posted by Administrator on Nov 5th 2020
Put A Bow On It!
As car manufacturers prepare to roll out next year's car models, dealerships start to clear the previous year's inventory to make room for the influx of new cars. The holidays present an excellent opportunity to tap into the season of giving and encourage customers to pull the trigger on getting that big holiday gift for a loved one. While car window flags are an effective means of branding for dealerships, specially customized large car bows can really give your holiday efforts that extra boost!
With excellent sales to unload the remaining inventory, more people will be buying cars for the holidays. While it might be an impractical waste of wrapping paper to gift wrap the entire car, a nice big bow on the hood provides that same visual flair and helps get people into the holiday spirit. For dealership owners, having a ready supply of these large car bows can help cement your customer's holiday experience while simultaneously promoting your business with unique customization options.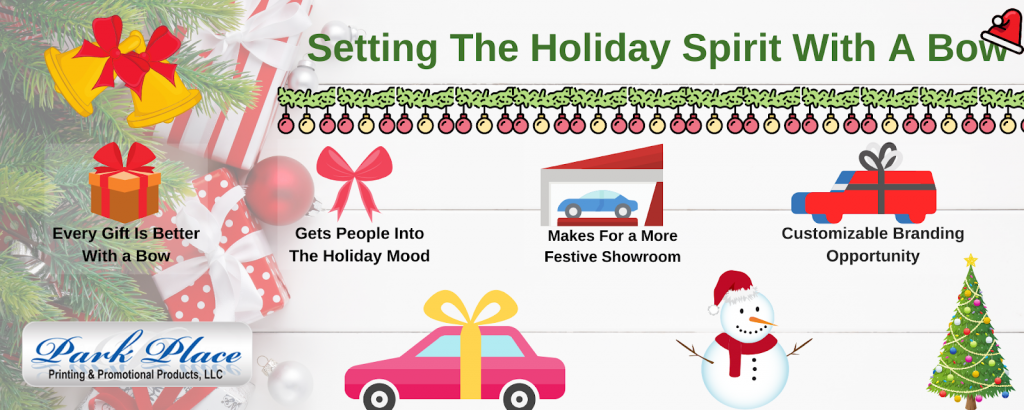 That Specially-Branded Holiday Feeling
Dealerships strive towards getting their name and brand out to as many potential customers as possible. What better way to achieve that goal this holiday season than with large branded car bows? You can have your company prominently displayed on the bow, and while the recipient is jumping for joy over their new car, the neighbors and passerby notice the celebrations. Thanks to your branding, they know where the quality car and holiday gift came from for their next purchase.
It Sets The Stage in The Showroom
The holiday bows aren't just great for ad campaigns and the big Christmas reveal. You can also use them in your showrooms to set the right holiday tone from the second they walk into your showroom. Getting into the holiday spirit with the big car bows and subtly hinting that the car featuring the bow would make an excellent gift for a loved one helps get the customers and your sales reps into the holiday spirit.
A Bow for Every Season
While the large car bows help set the tone for the holiday season, you are not exclusively limited to using them in the winter! The bows are perfect toppers for anniversaries, birthdays, graduations, and a host of other gift-giving occasions!
For car dealerships, now is the perfect time to invest in large car bows! In addition to your assortment of car dealer decals and other promotional materials, the car bows help to set the right tone for the holiday season, attract customers, and promote your business all at the same time! Contact Park Place Printing to learn more about how we can help you get ready for the holiday season today!